Town of Canandaigua Begins New Year with Swearing-In Ceremony for 2018 Elected Officials
On Monday, January 8, 2018, the Town of Canandaigua held a ceremony to conduct the Oaths of Office for all of the Town's new and existing elected officials and for appointments to several of the Town's boards.
New York State Supreme Court Justice, the Honorable Craig Doran, was on hand to preside over the ceremony and conduct the oaths of office. The Town Board welcomed a new member, Gary Davis, who won the November 2017 election for the seat vacated by former Deputy Town Supervisor, Keith Cutri.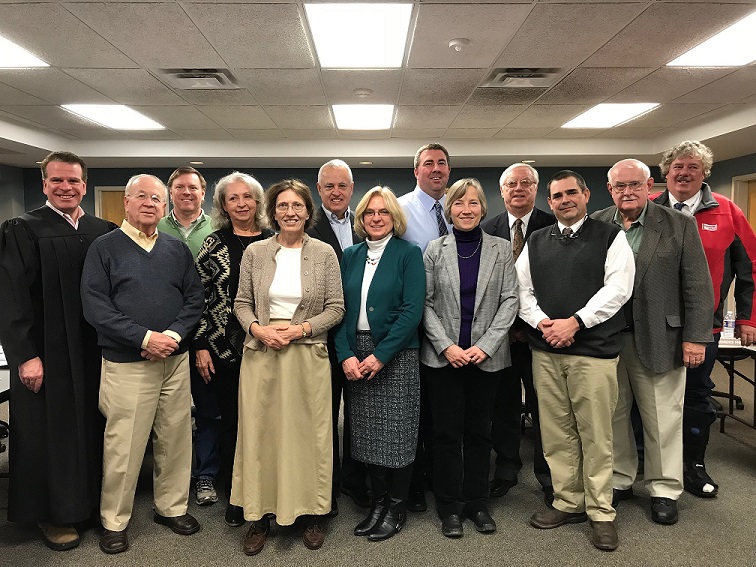 Photo Caption: From left to right: NY State Supreme Court Justice, Honorable Craig J. Doran; Planning Board Chairperson, Tom Schwartz; Planning Board Member, Gary Humes, Environmental Conservation Board Chairperson, Joyce Marthaller; Environmental Conservation Board Member, Saralinda Hooker; Town Supervisor, Greg Westbrook; Town Clerk, Jean Chrisman; Highway and Water Superintendant, Jim Fletcher; Town Board Member, Linda Dworaczyk; Town Board Member, Gary Davis; Parks, Trails and Recreation Committee Chairperson, Mark MacNeil; Town Board Member, Terry Fennelly; Agriculture Advisory Committee Chairperson, Mark Stryker.