Town of Canandaigua COVID-19 Update - May 8, 2020
Today's Update Includes:
A message from the

Town Manager

Food Distribution Locations and Dates

Paycheck Protection Funds Still Available

Lake Friendly Lawn Care Webinar

Links to helpful resources/info for individuals and businesses
---
Town Manager's Message
Reopening the Finger Lakes and the Town of Canandaigua
May 15th is just around the corner, the date which has widely been touted by Governor Cuomo and officials as a possible date for un-Pausing New York. Earlier this week, the Governor outlined plans for a phased approach to reopen the State on a regional basis in four different phases, waiting two weeks in between each phase to make sure that the overall conditions are not getting worse as we start to reopen the Finger Lakes.

While we have to wait to see exactly what will happen on May 15, 2020, we believe the Finger Lakes Region as a whole is in pretty good shape, although everything is subject to change. Based on a predicted opening of the Finger Lakes Region on May 15, we can project the following best-case scenario dates relative to the Town of Canandaigua:
May 15, 2020 – UnPause NY begins with Phase 1 for construction and assembly line workers (note: not office). The Town of Canandaigua transfer station will begin to return to normal operations allowing residents to self-unload their waste and recycling while also providing an option for those who need assistance with a reduced staffing assistance lane;

Approximately June 1

st

(if all goes well and the numbers continue to decline) – Phase 2 begins with the opening of offices including Town Hall, on a limited basis, with reduced staffing and increased sanitization plans including the required use of face-coverings, hand sanitization, disinfecting, and social distancing;

Approximately June 15

th

(if all goes well and the numbers continue to decline) – Phase 3 begins with the opening of hotels, accommodations, etc., including the possible availability of reservations for cabins at Onanda Park for families again with required increased hand sanitization, disinfecting, and proper social distancing;

Approximately July 1

st

(if all goes well and the numbers continue to decline) – Phase 4 begins with the opening of recreation related activities including the opening of the Town Parks, and hopefully the Town's beaches (although this has yet to be determined).
Our normal lives have been significantly changed by this situation, and the old normal operations will likely seem very different for a long time. While the dates and timeline identified above is encouraging, those dates and timelines are the best case scenario as we know it at this time and are all subject to change based on many different factors.
The month of May typically has us thinking about the upcoming summer, Memorial Day weekend, and our plans for vacations and spending time outside with friends and family. While this year is likely to be much different, I want to take a moment to extend best wishes from my family to yours.
Doug Finch, Town Manager
---
Food Distribution Dates and Locations
Please note that advanced registration is required. Also, delivery is available to those who cannot pick up their own meals. Spanish Language Food Distribution Flyer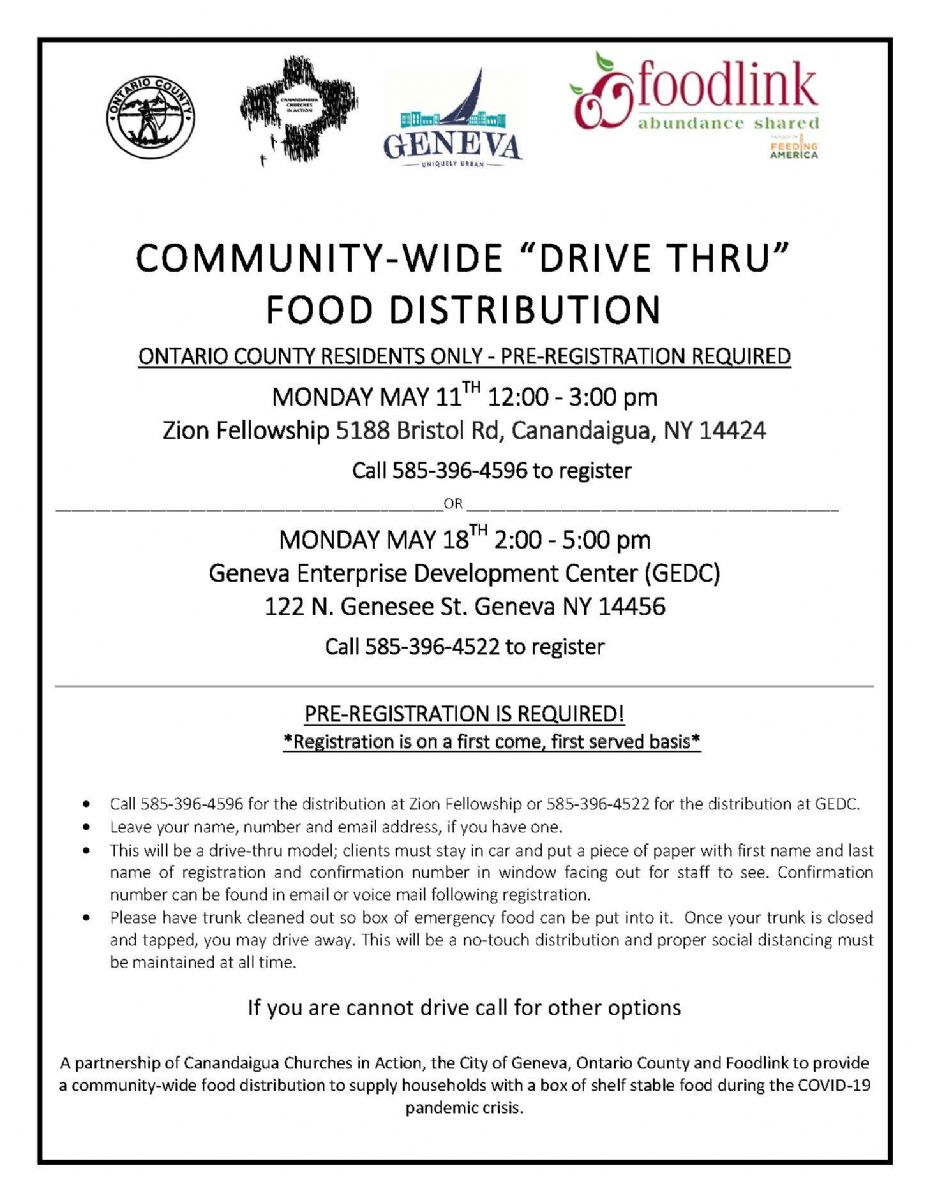 ---
Paycheck Protection Funds Still Available
From the Small Business Administration:
Round Two still has over $100 Billion for Borrowers in Need
NEW YORK, NY – Billions of dollars in potentially forgivable Payroll Protection Program (PPP) capital remains available to small businesses and nonprofits to help provide eight weeks of payroll and certain overhead to keep workers employed. PPP, created out by the Coronavirus Aid, Relief, and Economic Security (CARES) Act, is responsible for infusing billions of dollars of capital into small businesses nationwide and saving jobs.

SBA forgives the portion of Paycheck Protection loan proceeds used to cover the first eight weeks of payroll costs, rent, utilities, and mortgage interest. Loan payments may be deferred for one year, and is retroactive from February 15, 2020, so employers can rehire their recently laid-off employees through June 30, 2020.

Approved Lenders can be found using the SBA Lender Locater at www.sba.gov/ppp.

Loan forgiveness is based on the borrower maintaining or quickly rehiring employees while maintaining salaries and hours. PPP loans have a maturity of 2 years and an interest rate of 1%. A copy of the PPP borrower application form with all information the federal government requires a small business to provide can be found at: https://www.sba.gov/document/sba-form-2483-paycheck-protection-program-borrower-application-form.
For detailed information on SBA programs for the coronavirus, please visit www.sba.gov/coronavirus and for information on all federal programs, visit www.usa.gov/coronavirus or www.gobierno.usa.gov/coronavirus (en Español).
---
From the Canandaigua Lake Watershed Association
Join us! Healthy Lawn Care Webinar
For those that missed the February Lake-Friendly Lawn Care Workshop, we're happy to announce that presenter Frank Rossi of Cornell will be back to share information in a webinar format on Thursday May 14th from 1-2 PM!

Everyone enjoys a garden party along the lake on an expansive emerald green sward. However, your watershed lawn also supports the community and economy that depends on the lake for recreation and for clean drinking water. Climate change is increasing the frequency of heavy rainfall events and high volumes of stormwater that are difficult to detain. Tending to your lawn should begin by eliminating routine applications of fertilizers and pesticides and devise care that supports soil and plant health. Lawns can serve as the last line of defense for encouraging infiltration into the soil, further filtering pollutants before entering the lake.

Enjoy an hour-long show with Dr. Frank Rossi of Cornell University discussing how to make your lawn friendly to the lake and your community by building a healthy soil and using judicious care. Bring your questions for a lively Q and A during the show.
Presented by Dr. Frank Rossi
The "Grass Guy"

Frank Rossi is an associate professor at Cornell University in the School of Integrative Plant Science and is an Extension Turfgrass specialist. Frank will speak about practical lawn care solutions that balance lawn and lake health.
LAKE FRIENDLY LAWN CARE RESOURCES
Looking to spruce up your yard for spring? Don't forget to be lake-friendly!
---
Town of Canandaigua Contacts and Links
---
Town COVID-19 Resources
Visit the Town's COVID-19 page on the Town's website for links to local, regional, state, and national information. If you haven't visited this page yet, we encourage you to do so and check back often as updates are added regularly.

Also scroll below to see other community links that you may find useful.
---
Community-Wide COVID-19 Information and Updates
---
Where Can I See Local and State Televised News Related to COVID-19 Online?
Ontario County Public Health Facebook Page (links to previously recorded videos)
Finger Lakes Television Daily Briefings
Governor Cuomo's Daily Briefings available on the Governor's YouTube channel
Want email updates from New York State on Coronavirus? Sign up for more frequent updates here
---
Restaurants Offering Curbside/Take-Out Services
Still want to enjoy food from area restaurants? We have you covered. Our local tourism friends have created a page on (https://www.visitfingerlakes.com/flxtakeout/) that lists those restaurants in Ontario County that have indicated they are open for takeout, delivery or curbside service. It will be updated as needed.