Canandaigua Lake Steamboats
The Steamboat Era on Canandaigua Lake
The steamboat era in New York State started in 1807 when Robert Fulton ran his steam-powered "Clairmont" on the Hudson River. The first steamboat in the Finger Lakes region was the "Enterprise" which was launched in 1825. Canandaigua Lake's steamboat era ran from 1827 with the launching of the "Lady of the Lake " and ended in 1935 when the "Idler" discontinued passenger service. There were fourteen major boats that provided commercial service on Canandaigua Lake.
Steamboats featured in the Town Hall
---
Lady of the Lake
was launched on September 15, 1827. It was the first steamboat on Canandaigua Lake. Named after Sir Walter Scott's lovely poem, the boat was built near Squaw Island by Mr. Burton of Troy in 1823 at a cost of $550. The "Lady " was 80 feet on the keel with a 27 foot beam, and was a stern wheeler, powered by a 25 horsepower engine built by John C. Langdon of Troy and was built of unique laminated construction unlike the plank and beam construction of earlier sail powered boats. It even had an elegant "soda bar". Owners included Francis Granger, John Greig, Jared Wilson and John D. Bemis. Isaac Parrish was captain the first season, later replaced by Jasper Judd. Sally Morris, a the pretty 15 year old daughter of Thomas Morris of Canandaigua, and granddaughter of Robert Morris, financier of the American Revolution, christened the boat. The venture was rather unsuccessful because there were few residents on the lake and the Canandaigua City Pier, used for loading and unloading freight and produce was not built until 1848. The boat sank near the present Canandaigua Pier. No photos exist.
---
Ontario
launched in 1845. The name meaning "beautiful, noble," the boat, also a sternwheeler, was built in Naples, N.Y. at Woodville, and was under the management of Herrick, Ingrahan & Co., later Miles P. Mack. The owners had financial troubles which continued until the boat was destroyed by fire in 1847. No photos of this boat exist either, since photography was really not in common use until the Civil War.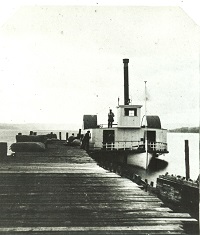 ---
Joseph Wood
launched in 1855. The boat, besides being the first sidewheeler on the Lake, was built in Canandaigua by David and Allen Wood, just west of the present Canandaigua City Pier and many photos of it have survived. The "Joe Wood" was 90' long and 18' wide. A high-pressure horizontal engine powered the boat. It was rebuilt in 1863 by Benjamin & Alonzo Springstead of Geneva, and sold to the Standish Brothers of Naples. The ice at the end of the Canandaigua Pier crushed it in March of 1868.
---
---
Henry B. Gibson
launched in 1860. The boat was built by Captain John Robinson in 1862. It was later remodeled and called "The Naples." The ice crushed it in 1865, under the Warner Brothers ownership.
---
Canandaigua
launched in 1865. Built by Bejamin Springstead for the Warner Brothers of Canandaigua. It was 110' long and 18' wide. For years it was owned by J. & A. McKechnie, well know brewers in Canandaigua. The "Canandaigua" was powered by soft coal produced "whoof whoof" clouds of smoke, had a side-wheel and operated on the lake for 24 years, captained by Marshall W. Cooper. It was dismantled in 1889 and its engine was used in the new "Ogarita."
---
Ontario II launched in 1867 and christened by Miss Julia Phelps. Built in Woodville by Henry and Sales Standish of Naples and it was captained by Henry Standish followed by Edward Herendeen. It was the only wood-burning steamer. The "Ontario II" was 120' long and 19' wide, she had a 19' wheel and the axle was so high that passengers had to duck under it.. Her boiler was low pressure and very silent. In 1880 the "Ontario II" was taken over by the Canandaigua Lake Steam Navigation Co. She burned at the Canandaigua Pier in July 1887.
In 1880, the Canandaigua Lake Steam Navigation Co. operated four small steamboats in an attempt to offer a regular schedule. The boats were too small and were not successful as transportation boats. These boats included the "Fairy," built in 1887 and used by F. F. Thompson to go to his cottage on Pine Bank. The "Vanderbilt" built in 1888 had a short commercial run and in 1895 Wally Reed built the "Mayflower" and the "Wallanick" which were equally unsuccessful.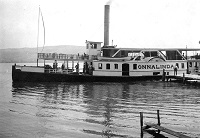 ---
Onnalinda
Considered the Canandaigua Lake's "Queen of the Steamboat Era", the Onnalinda was the largest of the lake steamers, could carry 600 passengers on Summer Sundays, with another 400 on a boat in tow. (Arch Merrill, Slim Fingers Beckon). It was launched on May 18, 1888, christened by Miss Maud Sayer, a niece of Mr. James McKechnie. Built by Alonzo W. Springstead of Geneva for the "Canandaigua Lake Transportation Co." , it was 142 feet on the keel with a 40 foot beam. Powered by a 40 pound boiler there were 5 crew members and even had a snack bar. Jake Dugan was an Engineer and Mike Burke one of its pilots. It had a rolling balast with 1/2 ton of scrap iron for stability. She was dismantled and sunk opposite the Canandaigua Yacht Club in 1913.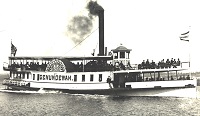 ---
Genundewah
launched in 1889. She was another Alonzo Springstead built boat, named for Bare Hill at Vine Valley and was better known by her nickname "Gee Whiz" reflecting her ornamentation and grace. She was built for the "People's Line", organized with money from grape growers. She was managed by James Mentieth, an English Baron. George Miller later owned her. She was burned at Woodville in 1894 in a fire of "suspicious origin."
---
Ogarita
launched in 1889 was another Alonzo Springstead built boat. Owned by the "Canandaigua Lake Transportation Co." as were the "Onnalinda" and the "Oriana", she was built for $15,000 and named after the daughter of the owner, she was dubbed O'Garrity due to her Irish crew. She provided lake service for 25 years with George Stemple as pilot, and could carry 250 passengers. She burned to water level at the Woodville dock in 1914.
---
Seneca Chief
launched in Canandaigua Lake in 1890. She was brought to the lake from Lake Ontario and was used as a mail boat and to tow scows. It was never a very successful boat and was dismantled after a few years. It was a small screw steamer. In fact it was the first commercial propellor boat on the Lake. It was about 38 feet on the keel and had little deck room and poor accomodations for passengers. It was not as fast as it was expected for making trips replacing the "Canandaigua". She was dismantled after a few years, her steel hulk sunk as unseaworthy. Her engine was then installed in the "Mary Ann" a pile driving steamboat and after a few years, subsequently installed in the "Oriana".
---
Oriana
Alonzo Springstead built for the "Canandaigua Transportation Company." Using the boiler from the dismantled "Seneca Chief" the "Oriana" was built in 1896. In 1910 her owners cut her in half and added 11 ft. to her length and changed her powering system from steam to a gasoline engine. She could carry 125 passengers and held the record for longest commercial service of 30 years. Both she and the "Onanda" were named for Iroquois Indian Maids. The "Oriana" was abandoned and left to rot in 1926.
---
Eastern Star
launched in 1912. She was the last
scheduled passenger boat on Canandaigua Lake
. This gas launch was sent to Seneca Lake in 1932 to be used for dock work. Another Alonzo Springstead product.
---
Onanda
launched in 1914. The last steamboat on Canandaigua Lake, and the last one built by Alonzo Springstead, she was 75 ft. long and could carry 150 passengers or 50 tons of freight. When passenger service died down on the lake the owners shipped the boat downstate and put her into service on the Hudson River in 1924.
---
Idler
launched in 1935. Capt. Wally Reed tried to restore passenger service on this 32-ft. gas powered launch. It had wicker chairs for 20 passengers and operated at irregular hours. It was the last boat to provide boat service on Canandaigua Lake until the arrival of the Roseland Park tour boat, the "Sandra Lee."
---
Canandaigua Lady has been operating on Canandaigua Lake since 1989. It is a replica of 19th century double-decker paddle wheel steamboats. This sternwheeler has a capacity of 146 passengers divided between the enclosed lower- and partially open upper-decks. The Lady currently operates as a commercial tourist cruiser, offering boat tours of the lake, dinner cruises, and private parties.