Saturday, May 25, 2019 at 10am at the Cheshire Fire Hall
Read Full Post
---
In cooperation with the Ontario County Public Health Department, the Town's Environmental Conservation Board has made 50 Tick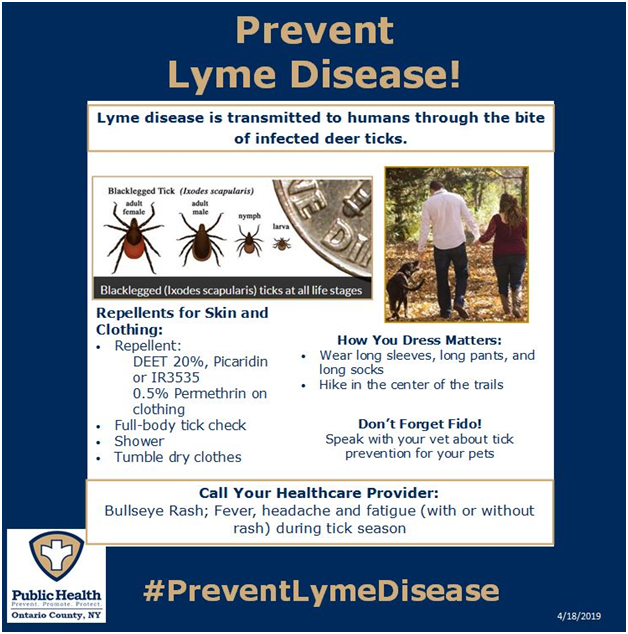 Kits available for FREE to Town Residents at the Town Clerk's office until they run out. Kits include a double-sided, laminated card with tips for identification, prevention, and protection, an article about ticks in the Finger Lakes, plus a small zip-top bag with a tick identification card, tweezers, alcohol swabs, and adhesive bandages.
Read Full Post
---
The Town Board meeting will be held on Monday, May 20, 2019 starting at 6:00pm.
Read Full Post
---
---
Read the May 2019 newsletter now! Click HERE for the full issue online. Visit our NEWSLETTER page for a downloadable PDF and to view past issues.
Related Posts:
April Newsletter Now Available with a New Look for Spring
---
Wednesday, May 22 at 9:00 am
Read Full Post
---
If you are a Town or City resident, now is the time to reserve your child's spot in our summer recreation programs.
Read Full Post
---
New Meeting Date: Thursday, May 9 at 9:00 a.m.
Read Full Post
---
Wednesday, April 24th, 6:00pm to 7:30pm in the Onnalinda Room, Lower Level of the Town Hall, 5440 Rts. 5&20.
Read Full Post
---
This month's issue is filled with a plethora of good information and many events to fill your spare time. Check it out and let us know what you think of the new format.
---